Two personnel were killed and 15 others injured when INS Betwa, a guided missile frigate, tipped over during undocking at Naval Dockyard in Mumbai today.
"There has been an incident in the cruiser grounding dock at Naval Dockyard in Mumbai involving INS Betwa. The incident occurred during undocking evolution wherein it is suspected that dock blocks mechanism failed," navy spokesperson Capt. DK Sharma said.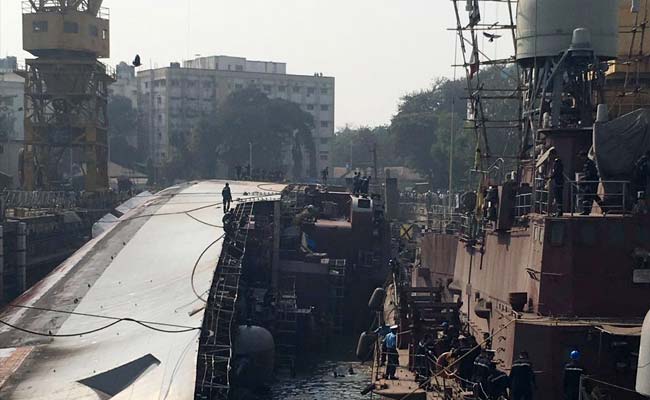 Explaining the situation, he said that the 3,850-tonne ship, having a length of 126 metres, tipped over while it was being undocked. The mast of the ship hit the dockyard ground, he said. INS Betwa was one of the main attacking force of the Indian Navy.
It was docked for repairs and while being returned to the water. In a process that involves tipping the ship — the system tripped and the entire ship fell sideways. The main mast of the frigate broke.
While two naval personnel died, 15 others were injured with one of them in a serious condition, the spokesman said. INS Betwa, a Brahmaputra-class guided missile warship (F-39), slipped on the dock blocks during a refit at about 1350 hours.
The ship had run aground in January 2014 and collided with an unidentified object which led to a crack in its sonar system, and had also seen salt water ingress into sensitive equipment.
INS Betwa
Named after the river Betwa, the frigate has been in service for over 12 years. It was indigenously designed and built with the capability to operate at extended ranges, with speeds up to 30 knots.
One of the key warships of the Western Naval Command, it is armed with Uran anti-ship missiles, Barak 1 surface-to-air missiles and torpedoes.
This is indeed a serious issue and our hearts are with the families of the deceased ones…
Please reply with your ideas…